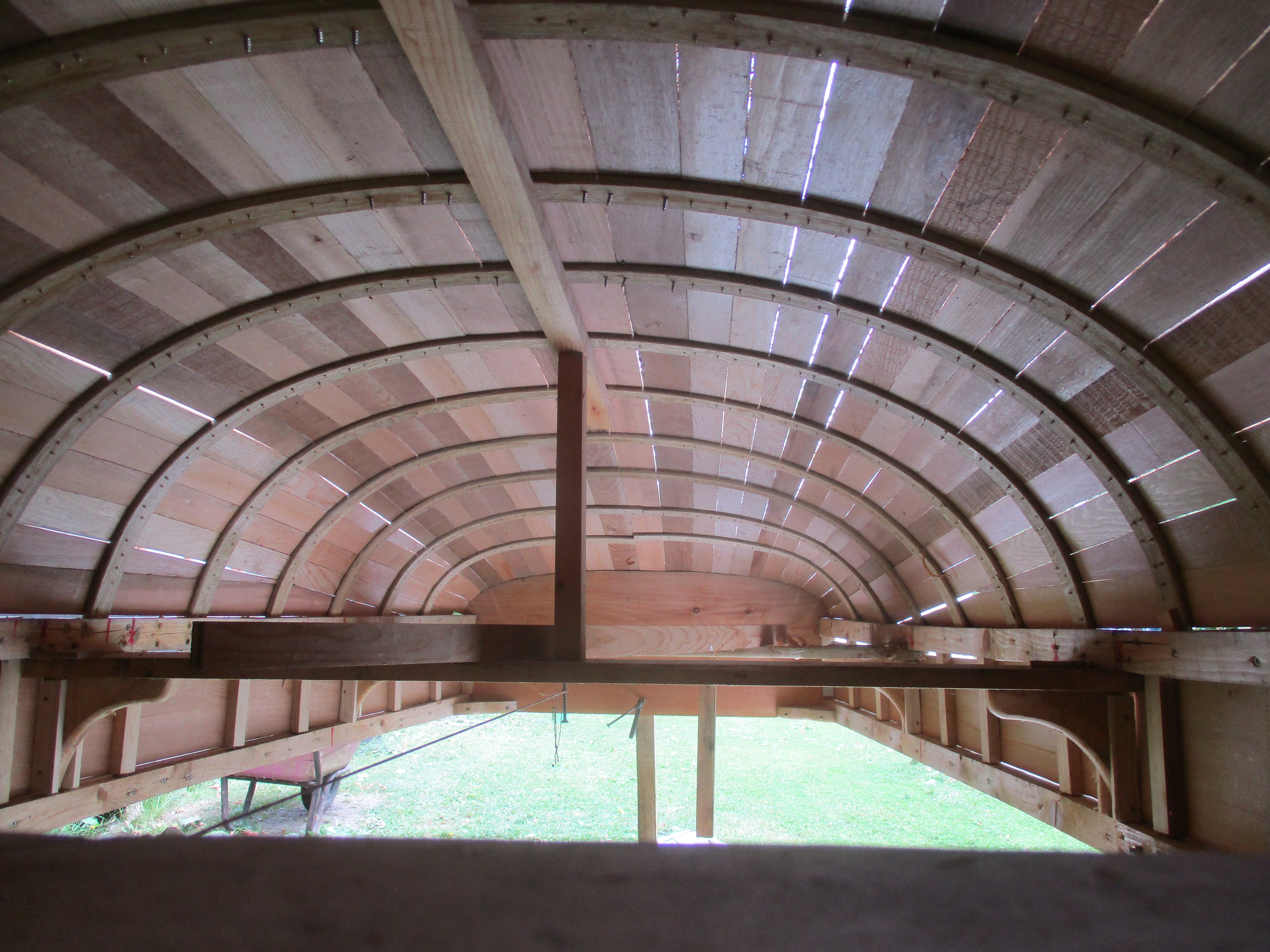 FOR SALE € 550.00. This 16 ft currach type boat  . NATIVE OAK RIBS AND RED CEDAR WOOD STRAKES , COVERED WITH GLASS FIBER ( BLUE PIGMENT ADDED) TWO OARS INCLUDED .GREAT FREEBOARD.(trailer not included)

USE A BOAT SAFELY AT ALL TIMES . ALWAYS  CHECK LOCAL CONDITIONS AND WEATHER FORECAST .DON'T OVER LOAD OR OVER POWER THE BOAT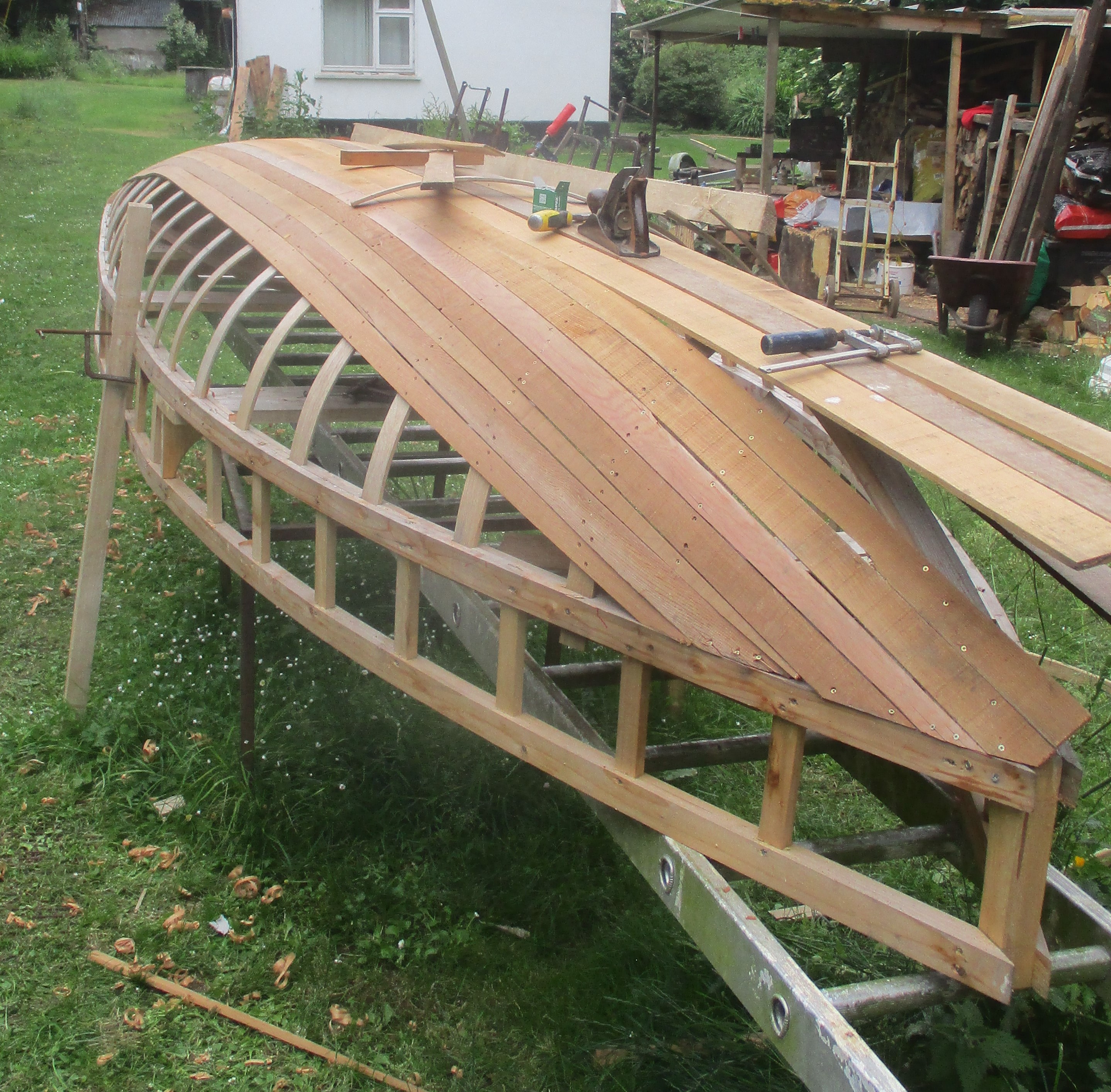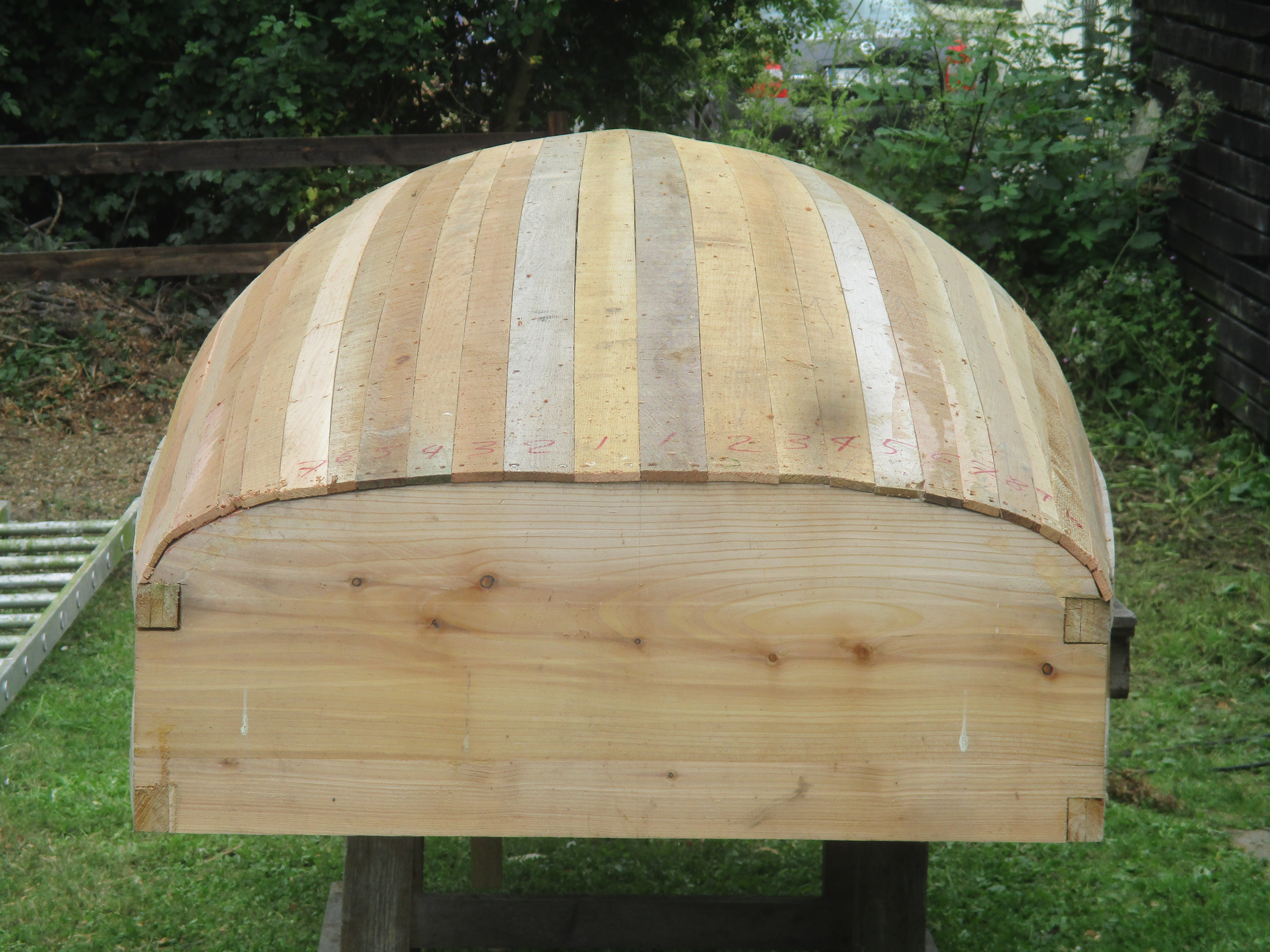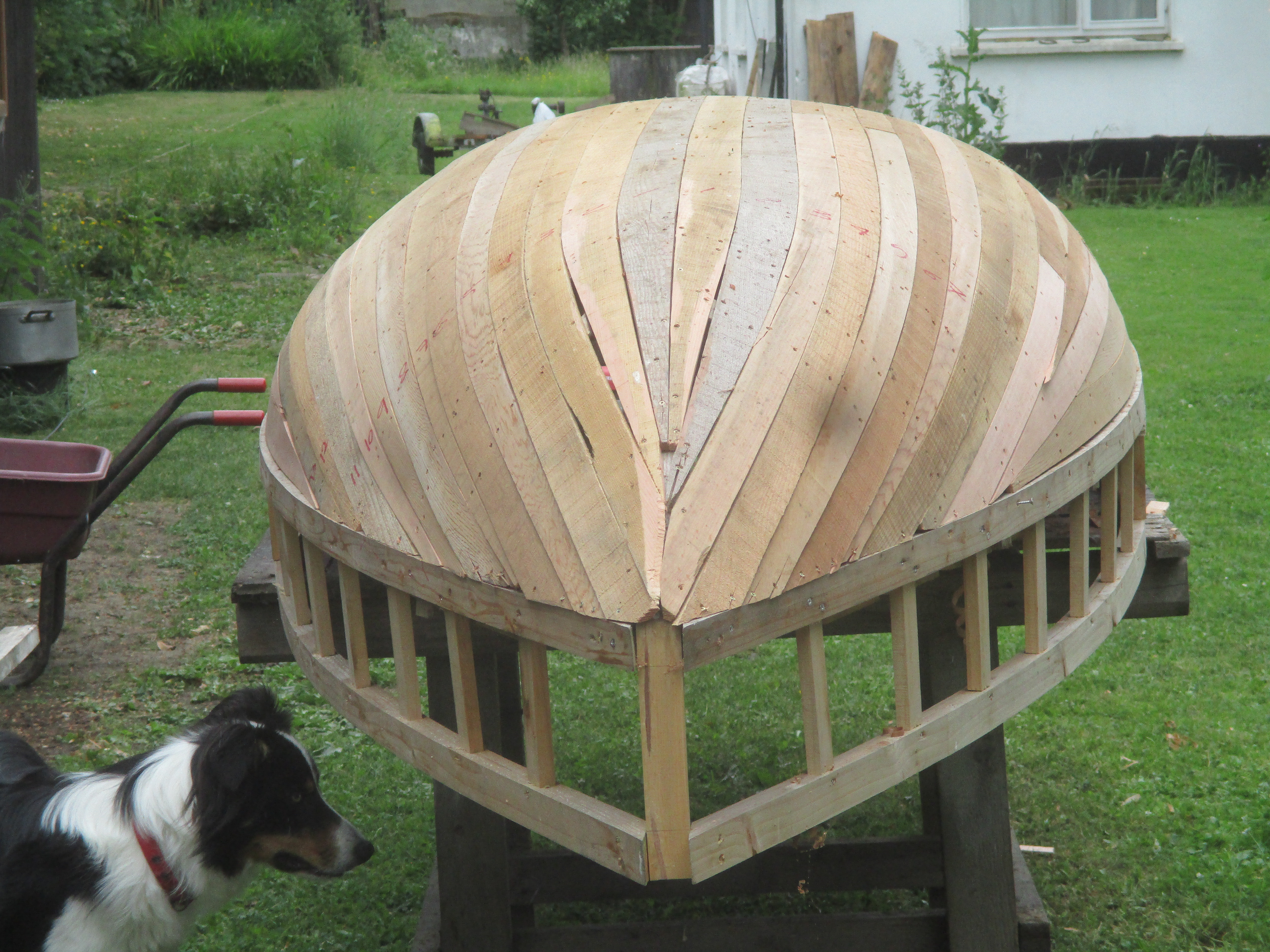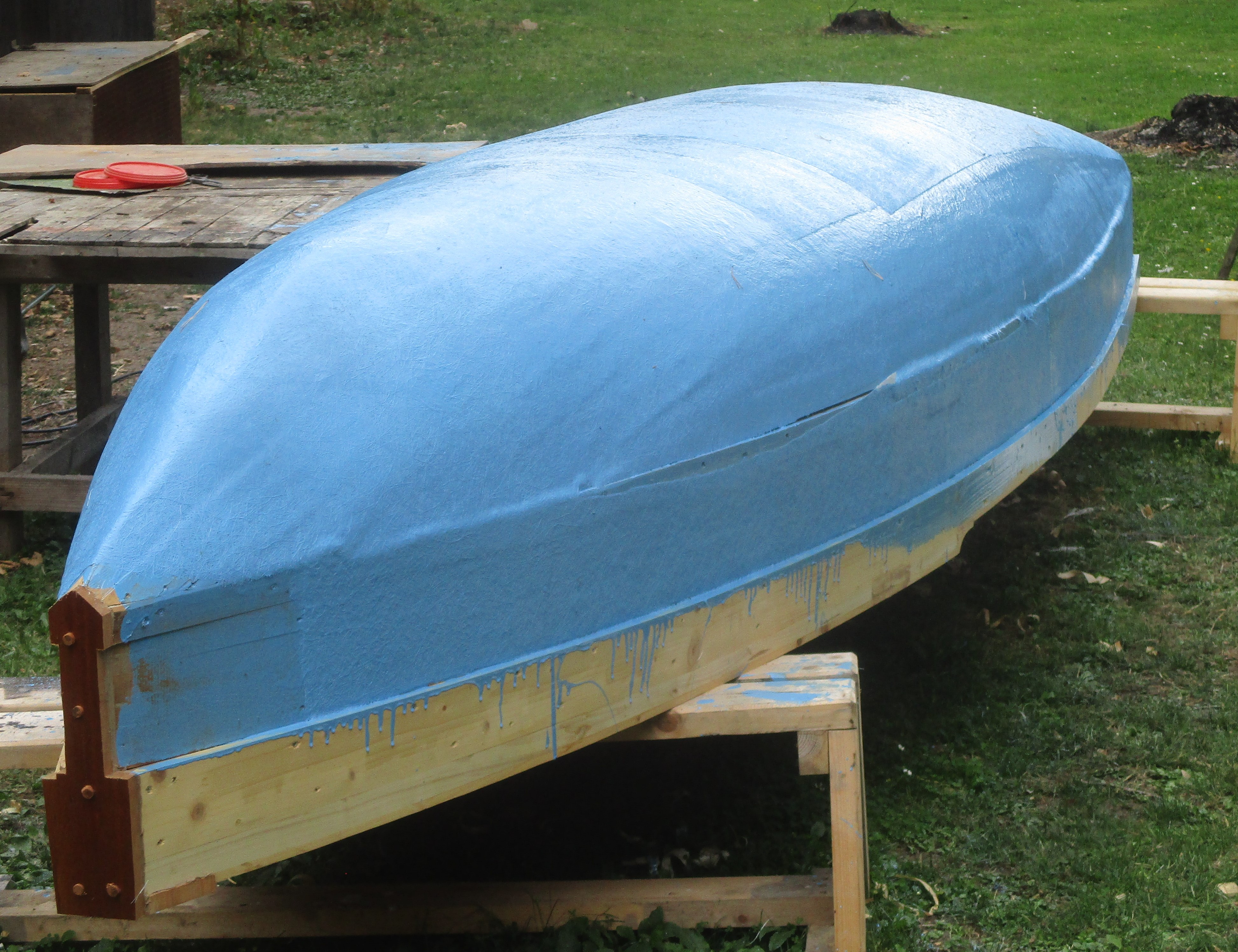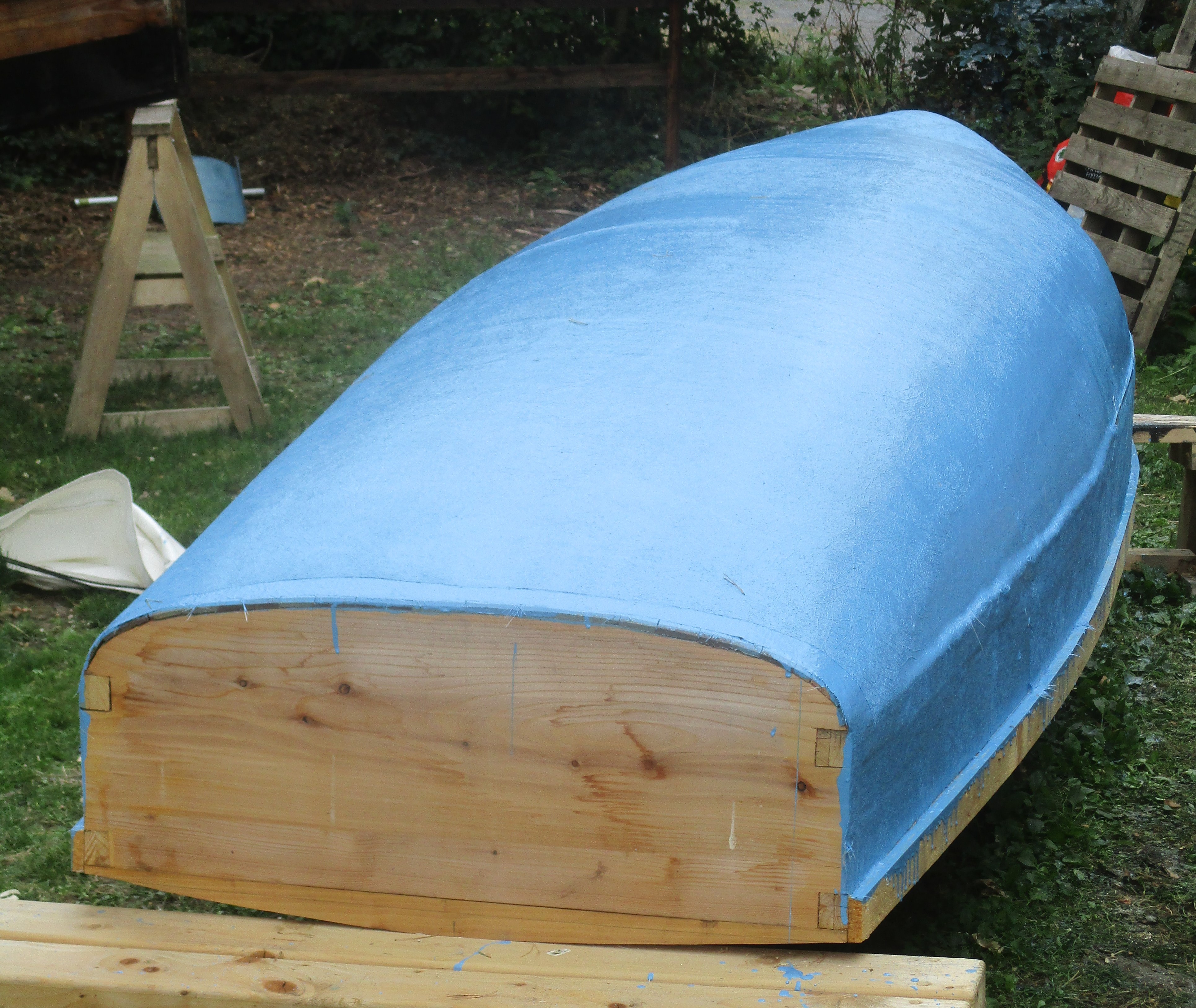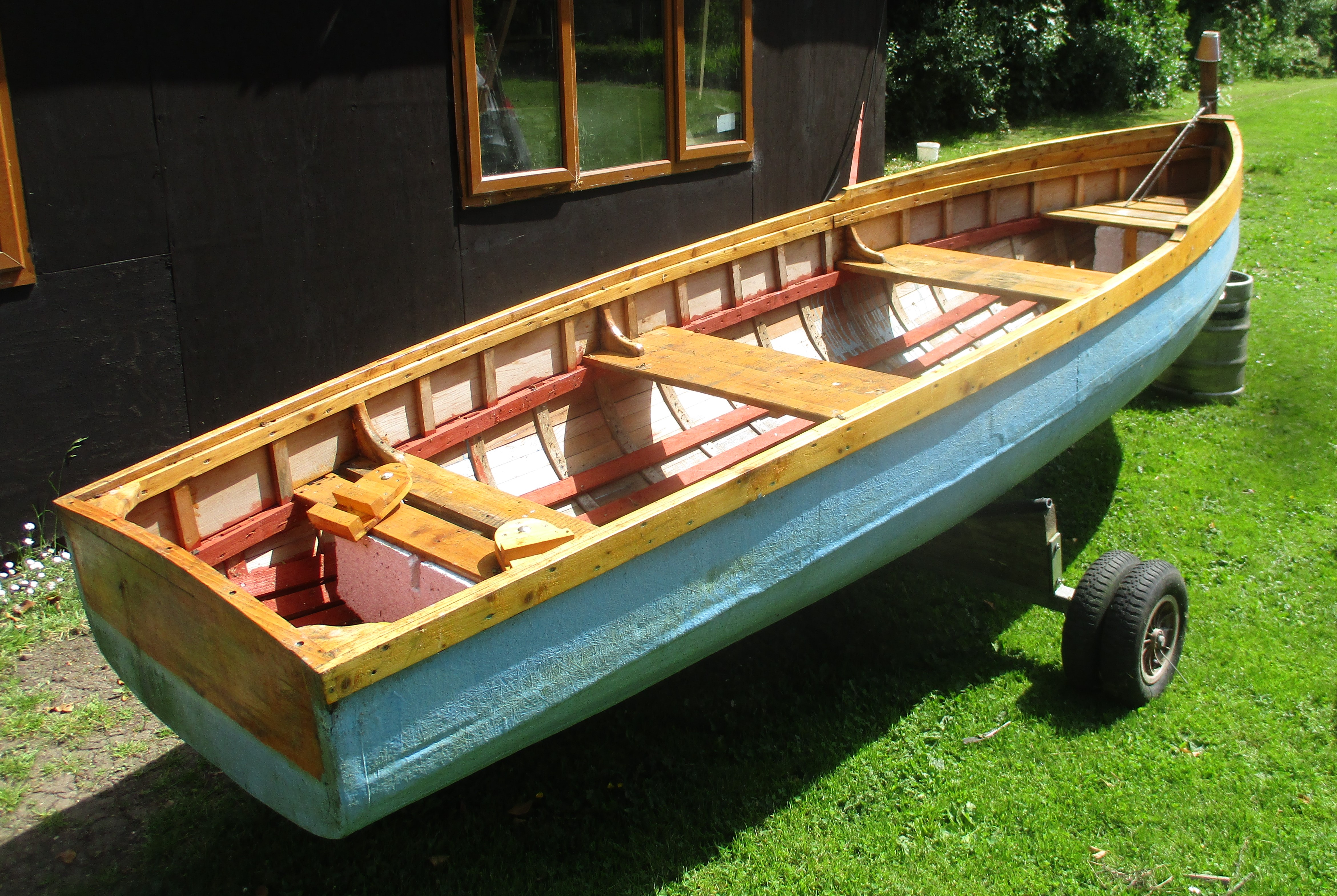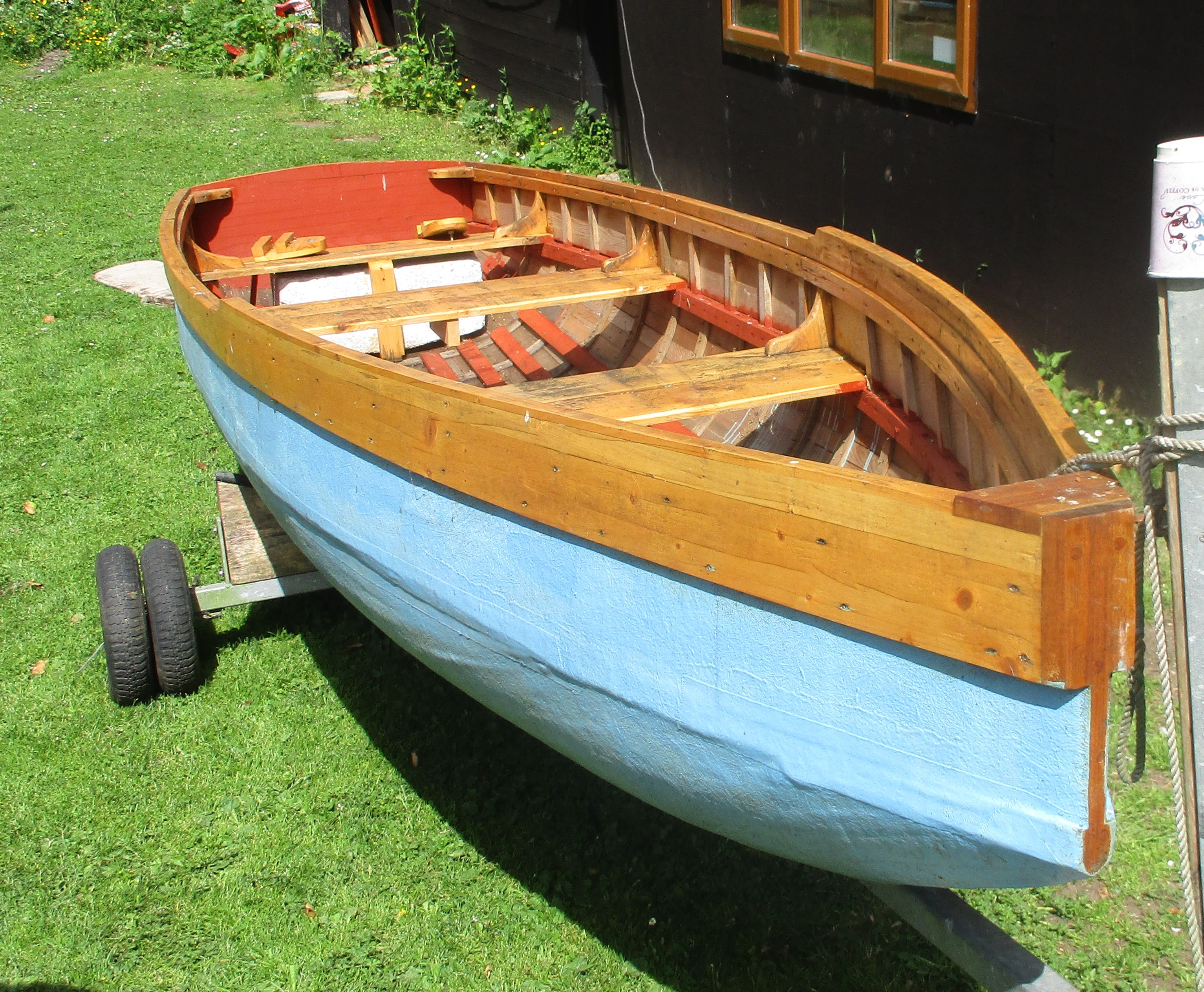 sold !    19 FT SKIFF for rowing or use with outboard. Going to a good home in Tipperary.This boat as described can be made again using Irish larch .New , Without trailer .      price € 2400.00

1 / THIS VERY STURDY 19FT BOAT IS BUILT WITH 14 MM THICK PLANKS OF NATIVE LARCH 8 INCHES WIDE. PRICE WITHOUT TRAILER € 850.00 , PRICE WITH TRAILER € 1100.00
IT HAS A HARD CHINE BOTTOM ( V- SHAPE ), 18 INCHES OF FREE BOARD, AND A BEAM OF 64 INCHES .
IT WAS USED FOR A PERIOD OF TWO YEARS ON THE SEA AT CORK WITH A 5 HP OUTBOARD . COVERED POLYSTYRENE FOAM BUOYANCY PERMANENTLY INSTALLED UNDER THE SEATS . COMES WITH A COMPLETE HEAVY GAUGE VINYL COVER (WHITE) AND TWO OARS .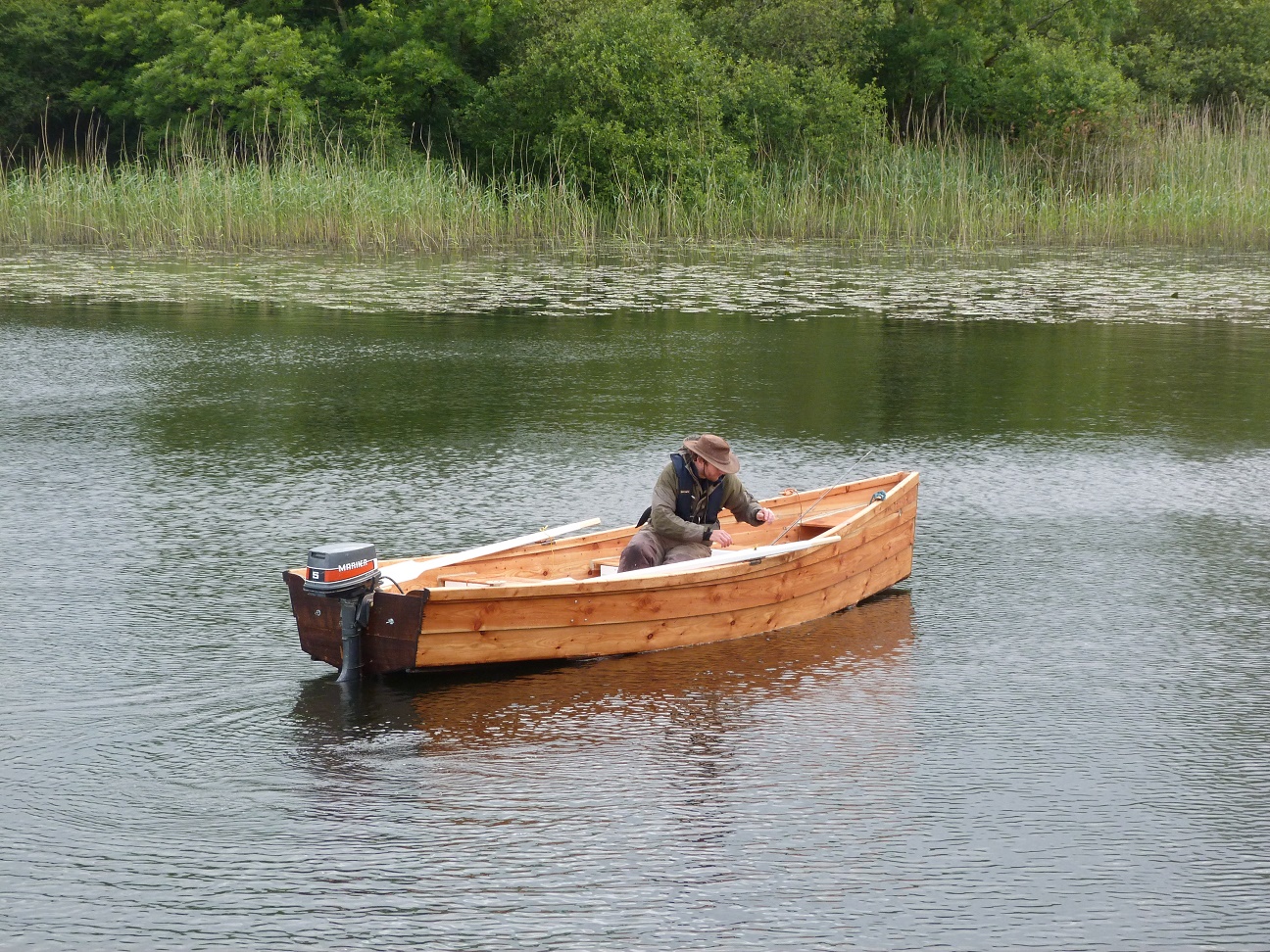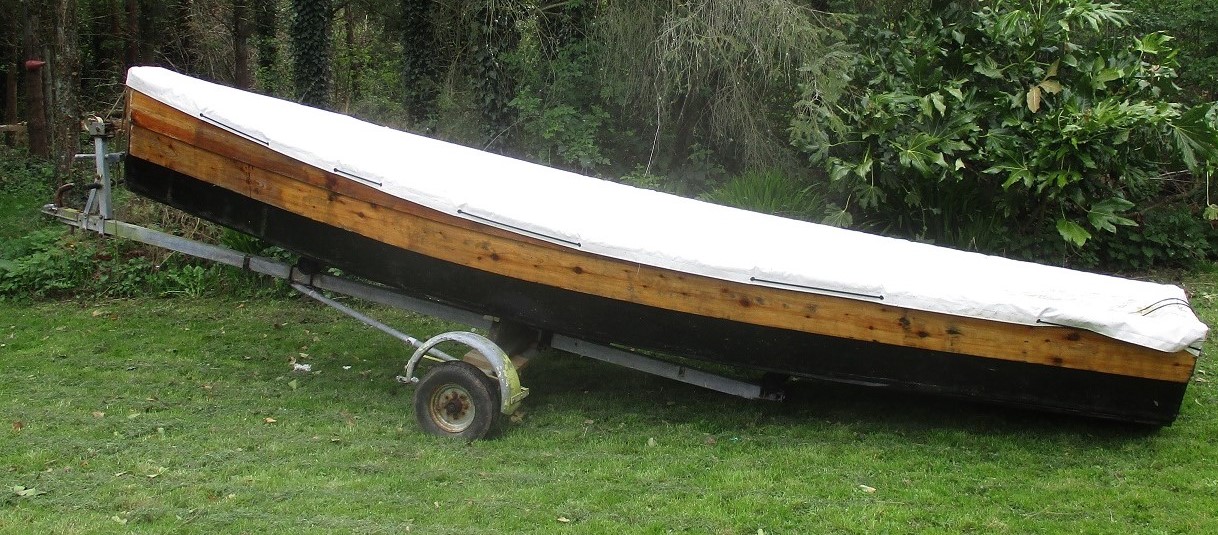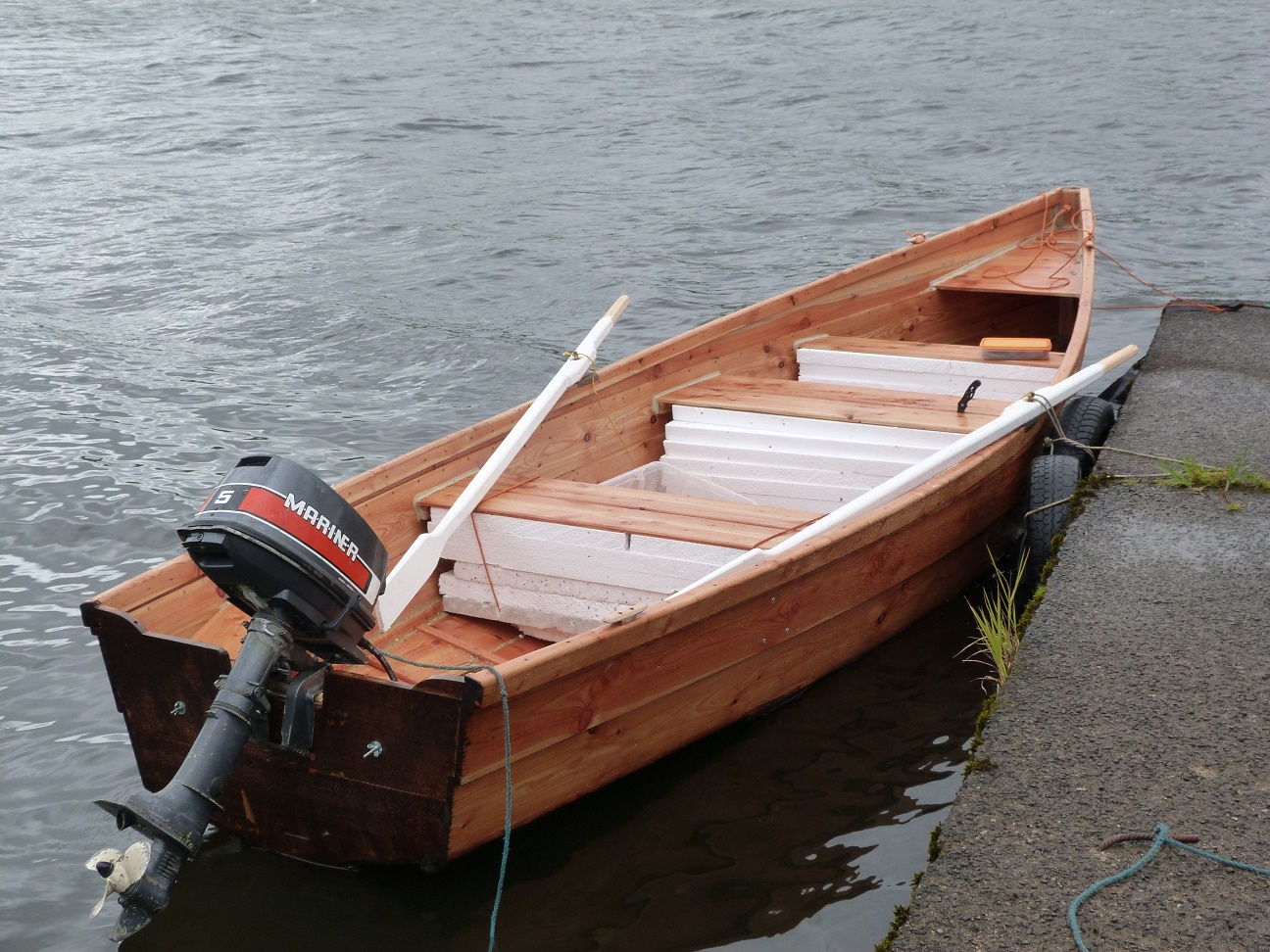 pic above before buoyancy was wrapped and secured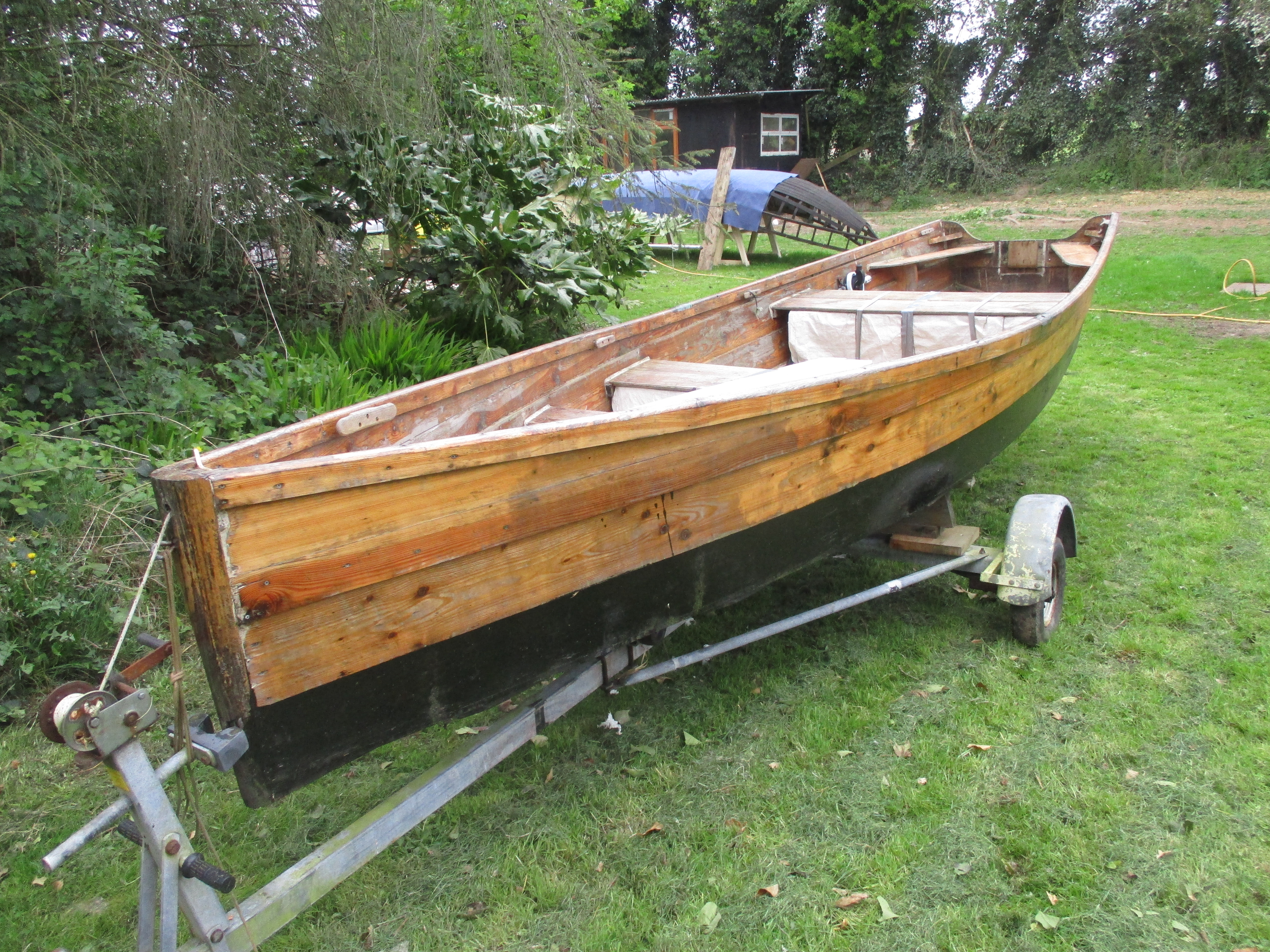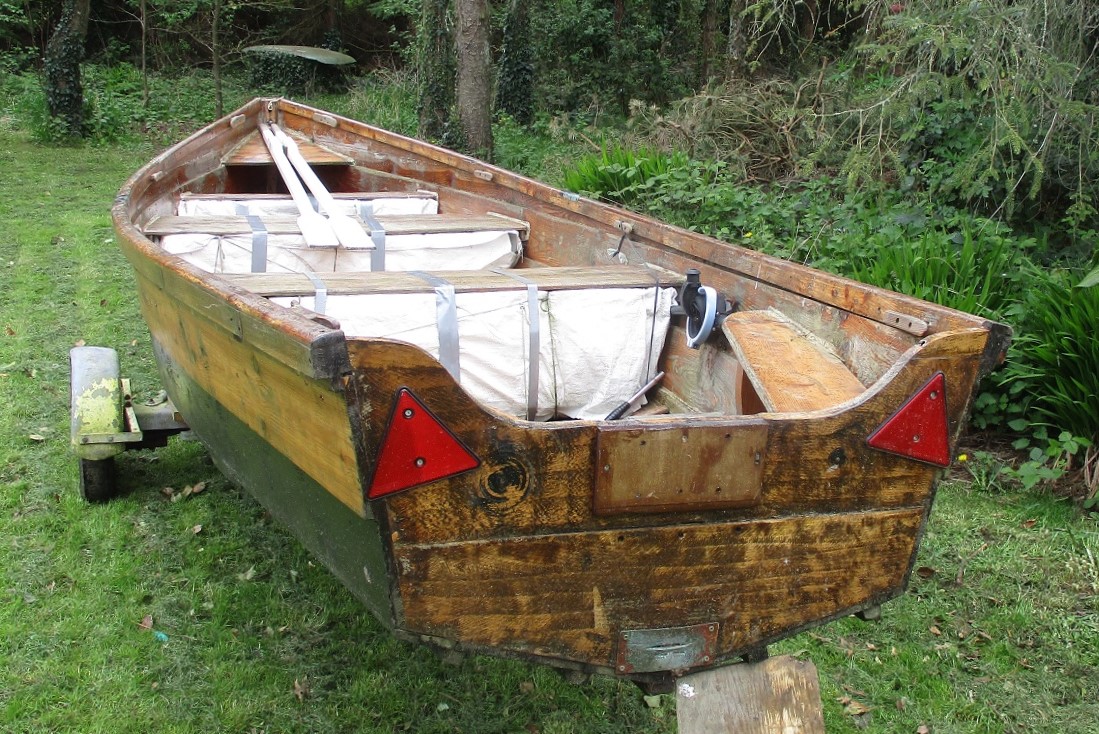 25 ft  curragh for rowing or use with outboard

sold !
THE PLANS , TEXT AND MORE THAN 200 PICTURES AND VIDEOS NEEDED TO MAKE THIS BOAT ARE AVAILABLE ON CD . COST € 46.00 PLUS POSTAGE . THIS 25 FT CURRAGH WAS COMPLETED  SEPTEMBER 2017 . SHE WAS DULY BLESSED AND NAMED " THE QUEEN MAEVE " LAUNCHED ON LOUGH RAMOR IN VIRGINIA COUNTY CAVAN. BASED ON THE KERRY NAOMHOG , A TRADITIONAL WORKING BOAT ALONG THE KERRY COAST.

PRICE € 1300.00 . NOTE ; AS THIS WAS THE FIRST ONE OF THIS MODEL TO BE MADE  ,THE NEXT CURRAGH OF THIS SIZE AND DESIGN WILL BE FOR SALE AT THE MORE REALISTIC PRICE OF € 2300.00 !! collection of the boat to be arranged by the buyer on agreement with the seller.

IT WILL SEAT 4 ROWERS AND WILL MOVE NICELY WITH EVEN A 3 HP OUTBOARD . WELL SUITED FOR USE ALONG THE COAST OR FOR A FEW FRIENDS TO GO ROWING AT WEEKENDS. SHE CAN BE ADOPTED TO HAVE THE OUTBOARD INSTALLED IN A " BOX " INSIDE .
MADE WITH WHITE DEAL AND CANADIAN RED CEDAR LATS ON STEAM BENT IRISH OAK RIBS AND USING THE TRADITIONAL DOUBLE GUNWALE . A PROTECTIVE LAYER OF SYNTHETIC VARNISH IS APPLIED ON THE INSIDE TO SEAL THE WOOD AGAINST WEATHERING . COVERED WITH A DOUBLE LAYER OF GLASS FIBer CHOPPED MAT USING BLACK PIGMENT TO LOOK AS THE ORIGINAL CRAFT COVERED WITH CANVAS AND PAINTED WITH TAR . THIS BOAT IS BEST STORED UPSIDE DOWN AS DONE TRADITIONALLY .THE MEASUREMENTS ARE AUTHENTIC AND CAN BE FOUND REFERRED TO ON;
http://www.texascoritani.com/British_Coracles_and_Irish_Curraghs.pdf
BELOW SOME PICS FROM THE LAUNCH AND BLESSING